Welcome To Dragonspire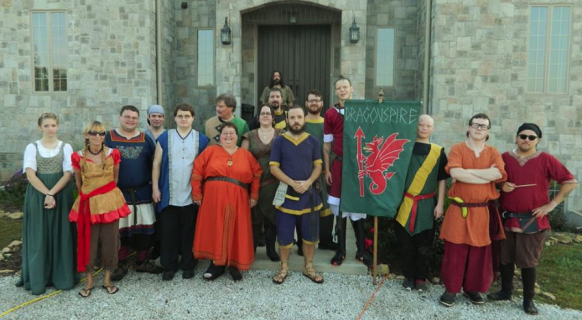 Greetings, Traveler. You have found yourself in Dragonspire, a realm of Dagorhir. Here you will train to be a hero, fight your foes, slay mighty dragons, and live the adventure you have always wanted.
You're probably wondering just what this is. If you've ever wanted to sword fight, dress in fantasy or historical garb, ever wanted to live Lord of the Rings, be a warrior out of history, or camp with a bunch of other nerds and hit them with sticks, this might be the place for you. Dragonspire is a realm where foam combat happens and where you chose who you are and what you make of it.
Practices

We have practices every Sunday from 12 to 4 at Hawthorn Park. We practice whenever it is not raining and above 40 degrees. The park is located at 6067 E Old Maple Ave, Terre Haute, IN 47803. We use the old baseball field which is located right next to the first parking lot on your left as you pull in.

If you are interested in joining, come out to a Sunday practice!

All participants must fill out a waiver before joining us on the field. You can fill out a waiver online here.

We often have training on Wednesdays for current members. It is also at Hawthorn but from 5pm-8pm. Check our Facebook group to see if practice is on for that day.

Looking for events? Check out this page.
Using This Site
This site is for newcomers and veterans alike. Here you will find a wealth of information about our realm and what you need to get started. You'll also find information and links on helping you become a better fighter. And of course there's information on our annual event Heroes Forge.